The Centre for Arts and Artists Provides Art Opportunities for Jasper County Residents and Visitors
Jasper County, Iowa embraces the arts in very public ways—from the murals in Prairie City and Lynnville to the over eighty sculptures throughout Newton—the arts are a visible part of life in the County. The Centre for Arts and Artists (CAA) in Newton embraces residents' interest in the visual arts by providing a space for artists to create and learn.
The Centre was founded in 2007 with a mission is to engage the community in building appreciation of creativity. Housed in a former lumberyard adjacent to Legacy Plaza and a few blocks from downtown, CAA carries out its mission by providing studio space for working artists and offering a range of classes for residents of all ages to have hands-on experience in creating art.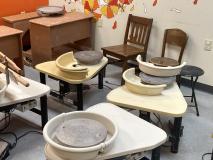 Linda Klepinger, Executive Director of the Centre, is particularly proud of the clay and kiln room at the Centre. "With the clay and kiln room, we have a feature that art centers even in larger communities don't typically have. A man from the Quad Cities was visiting his mother in Newton and was surprised to learn that CAA has a clay room. He said that he was used to going to art centers in places like Kansas City to have access to a kiln."
In addition to clay and kiln room for ceramic classes, the Centre has a large classroom space for workshops in other art media. Most recently, the classroom hosted a resin class that allowed students to create their own epoxy resin table. The Centre also uses its classroom space to host birthday parties, where party guests can participate in an art activity to celebrate a friends' birthday.
Soon, CAA will be adding a woodworking classroom to provide a designated space for artistic woodworkers to work on their art and take classes. Terri Ayres, manager of the Geisler Penquite Gift Shop at the Centre, is excited about this new classroom. "This new space will provide the opportunity for those who are curious about picking up a saw and creating art with wood a chance to experiment and explore." For Ayres, this is just another way that the Centre helps area residents use and explore their artistic talents.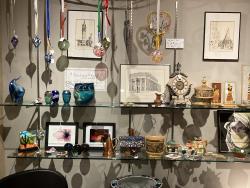 For those interested in art, but less inclined to get their hands dirty with clay, build their own table, or use a saw to create wood art, the Centre houses the Geisler Penquite Gift Shop on the first floor of the building. The Gift Shop sells artwork, much of it from area artists, including some who have studios upstairs at CAA. All profits from the Geisler Penquite Gift Shop support creative activities for Jasper County young people. The shop is open on Fridays and Saturdays from 10 a.m. to 2 p.m. and by chance or appointment. Visit the Geisler Penquite Gift Shop Facebook page to learn about new arrivals.
Art classes at the Centre for Art and Artists are listed on its Facebook page. Classes are open to anyone in Jasper County. Some classes have age requirements and all have enrollment limits and equipment fees.
The Centre for Art and Artists is just one of the unique attributes of Jasper County that makes it a great place to call home. Whatever your interest, life in Jasper County provides the best of small town Midwest living, combined with easy access to arts experiences like classes at the CAA or recreational options like a bike ride on the Chichaqua Valley Trail.
Click here to find out how Jasper County Economic Development Corporation (JEDCO) can assist with your business's relocation and expansion needs. Email JEDCO at JEDCOIowa@gmail.com or call 641-417-9500. Follow JEDCO on Facebook, Twitter, and Linkedin!